Cultural Hub of the Caribbean
Local Food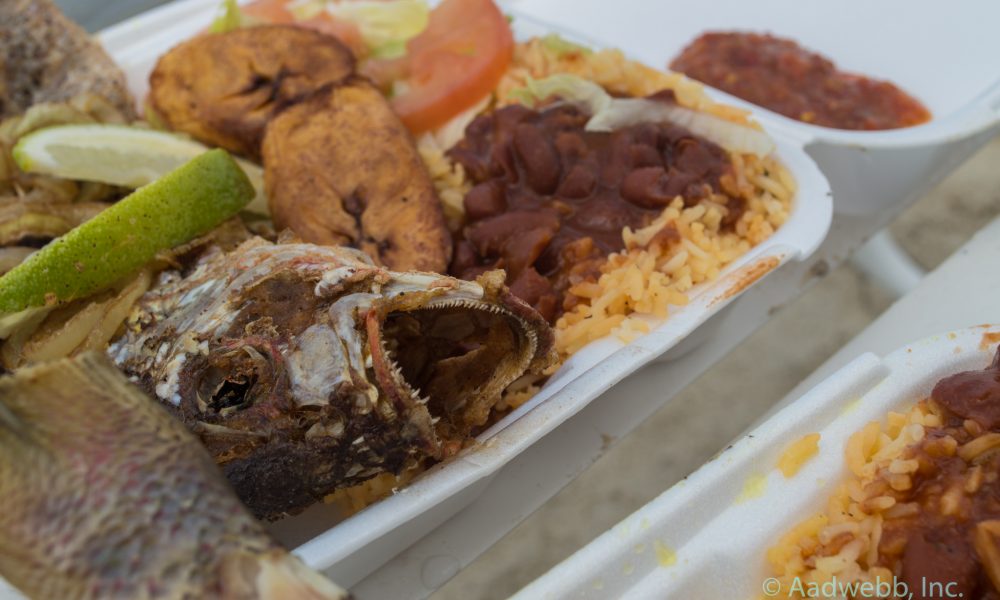 The blend of so many cultures in the Virgin Islands has richly influenced the gastronomy of the islands.  You will fall in love with our plentiful fare abounding in flavor with easy-to-find ingredients.
The staples of the island include a mixture of flavors from indigenous Indians, Europeans, Africans, and the Americas.  You can trace the evolution of the food as you review the history of the islands.  The original indigenous dishes were mixed with European flavors shortly after the islands were discovered.  As colonization occurred you see the mixture of African flavors and through globalization you see the inclusion of flavors from the Far East.
The women in the community are usually the best cooks but you won't see many recipes.  These women were taught to cook by their mothers and grandmothers and create dishes from memory and taste.  You see them add a little of this and a little of that and watch their masterpiece come together.  Callaloo soup is a popular dish made from the leaves of the Daheen plant mixed with local herbs, okra, and various meats.  Fish soup is also quite popular and locals eat it for breakfast, lunch, or dinner.
Tropical Cuisine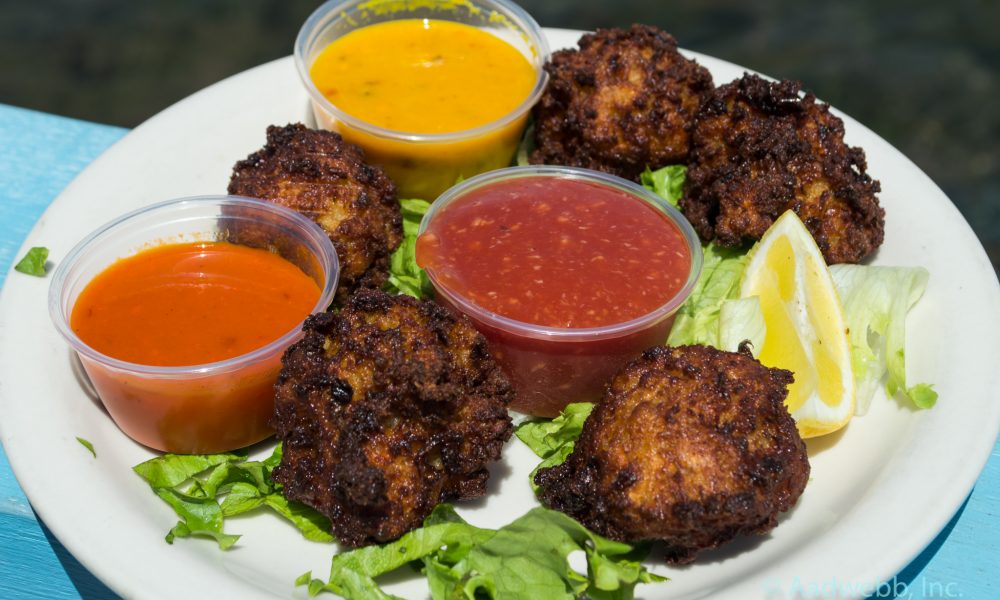 Conch Fritters are a must-have when visiting the Virgin Islands. Many restaurants serve these savory morsels so be sure order a big basketful. If you can find fresh conch (pronounced "conk") at the market, you can make these conch fritters back at your condo.
Another dish often served at restaurants are Crispy Tostones (twice-fried plantains) with a mayo, ketchup, garlic dipping sauce, or delicious tomato-based sauce.
Fish and Fungi is a simple stewed fish that is considered the unofficial dish of the Virgin Islands. Fungi is much like polenta and is made with cornmeal, water, salt and a bit of butter.
Fresh-off-the-boat fish such as red snapper, mahi-mahi, flounder, shrimp and crab are staples. Just a few pounds of fresh fish can become an exceptional meal.
The aroma of roasted or barbecued pork and goat drifts in the breeze all around the islands.  Stop at a food truck or hit one of the popular barbecue restaurants for this popular dish.
Sorrel rum punch at Christmas or anytime!
Johnny Cakes are a tasty fried bread similar to a donut but not so sweet.  They are often served for breakfast and lunch and dinner!  These much-loved treats are common all over the islands and make a great beach snack.
Local Fresh Fruits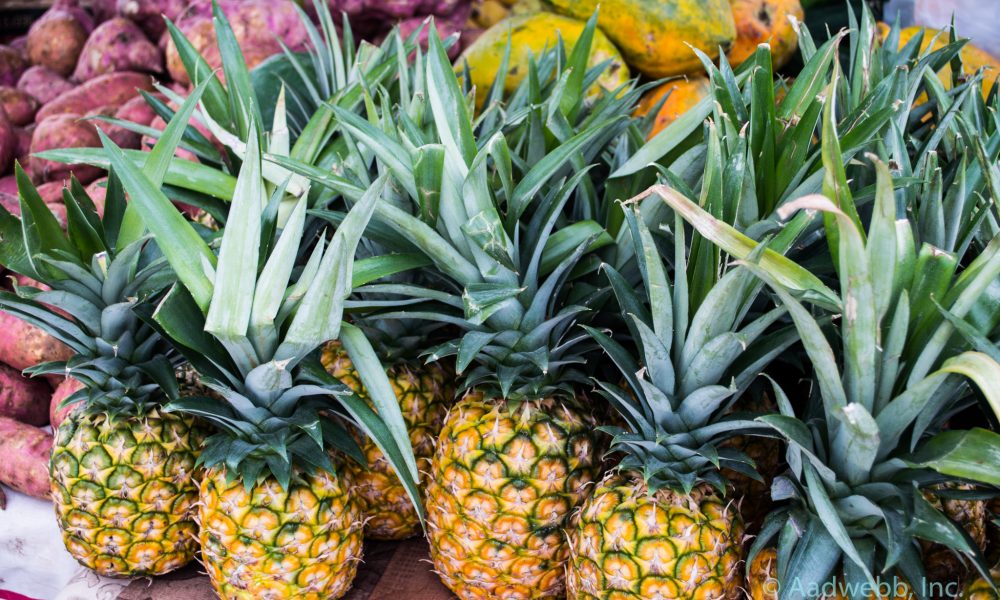 For an authentic cultural experience, stop by a roadside stand, meet some native Virgin Islanders, and pick up some local fruits.  You'll find lots of coconuts and coconut milk as well as juicy mangos and papayas but be sure to try something new, too!
Soursops are large sweet fruits that are often used to make ice cream.
What Virgin Islanders call figs are the little Banana Figs that grow in bunches like bananas but are sweeter and more fun to eat!
You'll also find passion fruits which islanders use to make tropical drinks and very special Passion Fruit Pepper Sauce.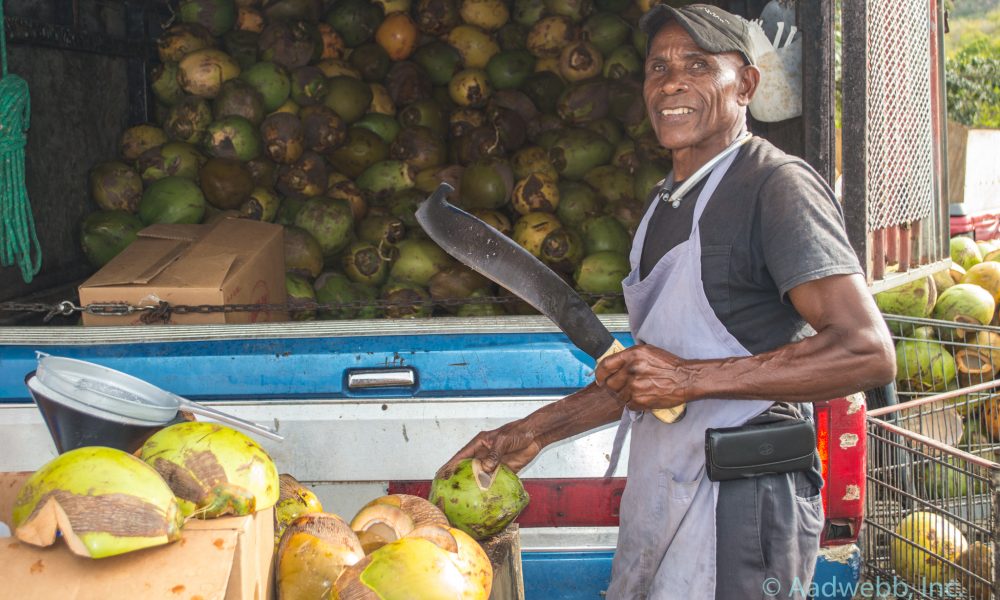 Another unusual fruit is the wild Genip (or Kenip). You can eat these little fruits right off the tree (peel it first) or you could try making some Genip juice for a fun Caribbean cocktail:
If you are making a salad lunch, try adding a carambola (Star Fruit).  When you slice these yellow beauties cross-wise they look like a star and are lovely lying on a bed of greens.
Tamarind grows on tall trees all around the Virgin Islands. The flesh has a sweet, date-like flavor. This healthy-for-you fruit is used to make tasty tamarind ball candy but it might be easier to buy tamarind paste!  You can also buy the candy in stores.
Breadfruit is a large starchy fruit that is typically roasted and served as a side dish. It's really easy to prepare.
Island Cocktails & Other Drinks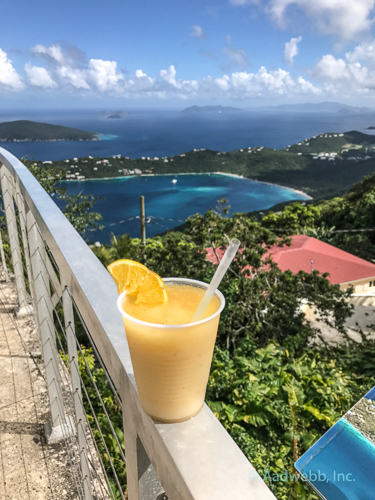 The Caribbean is known for its rum with practically every major island having its own varieties of rum.  Rum is distilled directly from sugar cane or molasses which is grown locally.  The sugar plantations of the past manufactured rum along with the sugar they grew so rum has long been a staple.  Cruzan Rum is manufactured on St. Croix and is frequently less costly than water!  St. John Brewers produces tasty local beers.  They are located in Cruz Bay on St. John and have been producing craft beers for only 10 years!
Popular health drinks include pumpkin punch, soursop punch, coconut water, lemon tea, and passionfruit juice.  A local favorite is mauby which is made by boiling the bark of the mauby tree and mixing it with cinnamon and other spices.  Many locals also drink seamoss; this is a drink made by boiling seaweed until it dissolves and mixing the liquid with milk and spices.
Island Music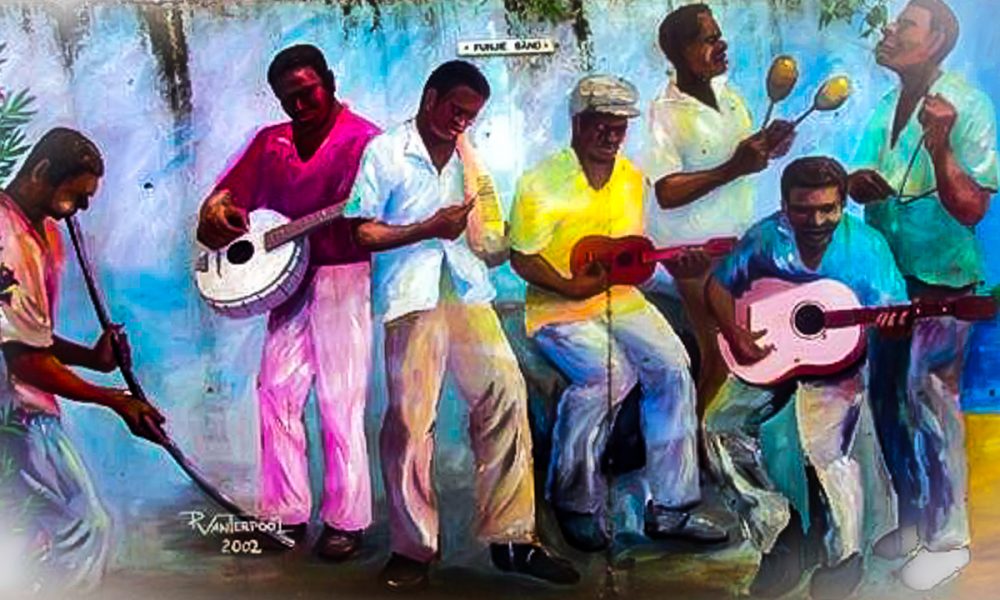 The official music of the U.S. Virgin Islands is called Quelbe. A quelbe is a folk song that speaks about the social or political topics of the day and are often sung as protest and can be considered scandalous.
Performed by a traditional folk "scratch" band which has its history from the days of slavery on the islands. Instruments including flutes, drums, strings, tambourines and such were fashioned from found objects. Scratch bands still perform today at festivals, parties, dance and church. This is a great article from the Smithsonian regarding quelbe.
Island Dance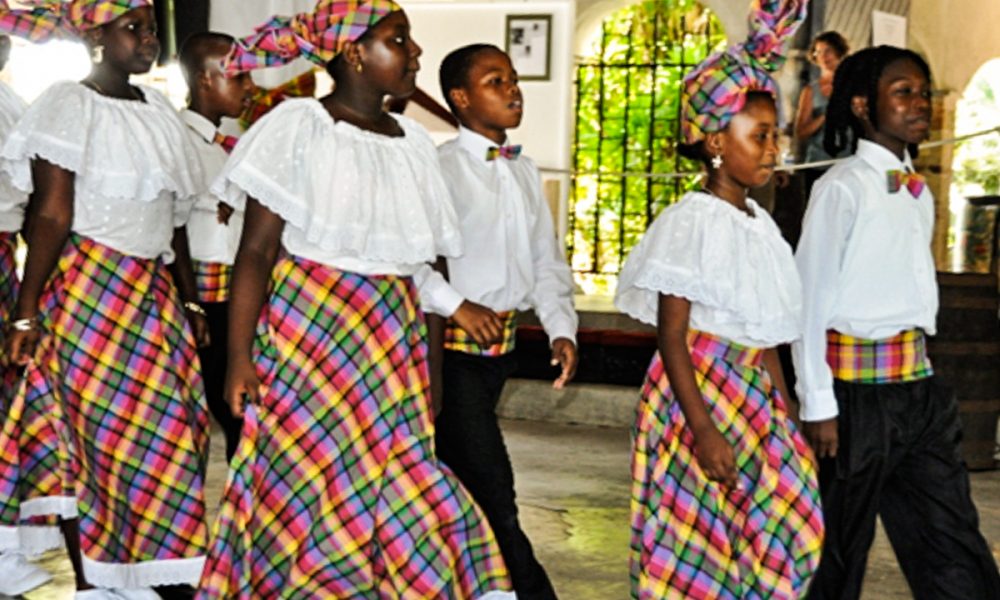 Quadrille is the traditional dance of the U.S. Virgin Islands.  It is a precursor to square dancing where four couples in a square formation perform to the prompts of a caller.  The costumes are brightly-colored madras plaid shirts for men and long skirts with petticoats for women.  The ladies' madras headdress is tied in such a way to indicate if she is single, engaged, married, or widowed.  Check out the website of this traditional dance troupe.
Other Items of Note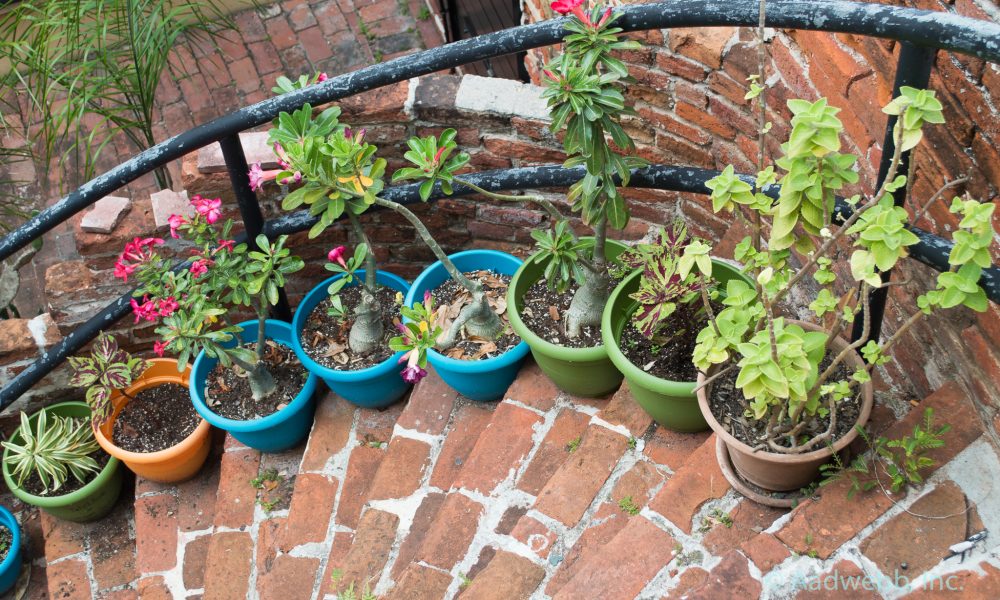 Dress for visitors to the U.S. Virgin Islands is generally casual. Please always be properly attired including shirt and shoes. Only wear your swimsuit to the beach and pool. Some resorts or restaurants may require more upscale attire.
The U.S. dollar is the official currency and there are banks and ATM's readily available. Most businesses accept credit cards.
A passport is not required for entry for American citizens but upon departure, you will be required to show proof of citizenship such as an official birth certificate and a government-issued photo identification. You will need a passport if you decide to visit the nearby British Virgin Islands even if just boating in their waters. So, really, it's best to bring your passport!
If you choose to rent a car, driving is on the left side of the road! Your U.S. driver's license is accepted. While driving, the same common-sense laws apply such as wearing your seatbelt and not driving while drinking or using a cell phone.
Electrical outlets are standard North American 120 volt.
American citizens can take home 5 liters of alcohol without paying duty.
The time zone is Atlantic Standard (USVI does not observe daylight saving time).